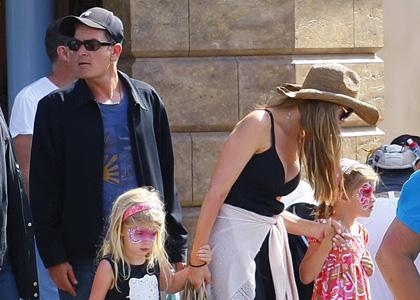 Reuniting for the good of their family, Charlie Sheen and Denise Richards celebrated daughter Lola's birthday alongside one another on Tuesday afternoon (June 1).
Also joined by their other daughter, Sam, and Denise's father, the group hit up the always-popular Disneyland theme park with Charlie lurching behind Denise and his daughters as paparazzi snapped up shots.
The family outing comes just as it has been announced that Charlie will be locked up for 30 days after reaching a plea deal in his domestic violence case with wife Brooke Mueller.
Upon agreeing to plead no contest to a misdemeanor assault charge, the "Two and a Half Men" star will have his felony menacing charge dismissed outright.
The plea is expected to be entered this Monday with the jail sentence beginning right away. Sheen could be out in 17 days with good behavior.
USTIMESでは、面白いネタを募集しています。ネタの投稿はこちら