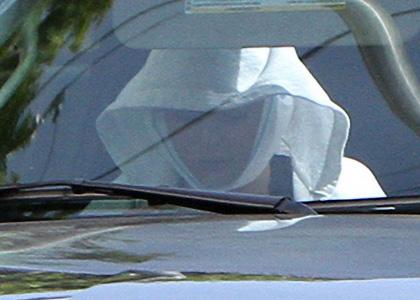 Tending to her dental health needs, Lindsay Lohan was spotted wearing a bandage around her face after leaving a medical office in Los Angeles, California on Tuesday (June 1).
Wearing a white hoodie, the "Georgia Rule" actress looked to be a bit groggy after having her wisdom teeth taken out by her local dentist.
Tweeting about the big day the previous evening, Miss Lohan wrote, "night night… before i am bed ridden from getting my wisdom teeth out tomorrow - wish me luck - i'm scared

xx"
Meanwhile, LiLo wrote just prior to getting her pearly whites yanked, tweeting, "Going to get my wisdom teeth removed! :'( visitors accepted @MDMOLINARI @LIGHTAARON @ElectraAvellan @jennidawnsays @andylecompte"
Currently the subject of random drug tests, it's still unknown whether or not the dental operation will allow Lindsay temporary access to pain medication - with parties unable to comment on the matter at the present time.
USTIMESでは、面白いネタを募集しています。ネタの投稿はこちら