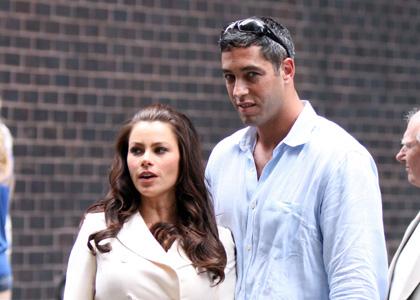 Getting back to work on her latest project, Sofia Vergara was spotted on the set of "The Smurfs" in Uptown, Manhattan on Tuesday (June 1).
Bringing a little support on this particular day, the Colombian beauty was joined by her hunky new boyfriend, Nick Loeb, as the twosome doted on one another outside the Russian Tea Room Restaurant shoot locale.
Making quite the name for herself due to the success of "Modern Family," it was recently announced that Miss Veragra will join Community's Joel McHale in announcing the 62nd Primetime Emmy Awards Nominations at 5:30 a.m. PST (8:30 a.m. EST) on Thursday July 8.
With "Modern Family" sure to be among the big winners, the awards show will be airing live on August 29 (8-11 p.m. EST) on NBC.
USTIMESでは、面白いネタを募集しています。ネタの投稿はこちら